News, Events & More
2017-18 USNA Football at Players
Posted: 8/12/2017
Greater Sacramento Area Parents Club and USNA Alumni Club gather for all games at:
Players Sports Pub & Grill 4060 Sunrise Blvd., Fair Oaks
(food is served – under 21 welcome)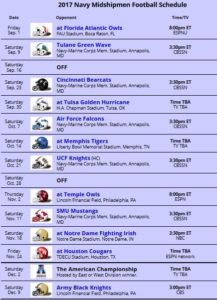 http://www.navysports.com/sports/m-footbl/sched/navy-m-footbl-sched.html
GO NAVY!  BEAT ARMY!
Graduate Kohn 2016
Posted: 5/25/2016
Mario Kohn, Yuba City
I learned how to Box, Wrestle, trained in martial arts, sea and land navigation. Had multiple talks from Admirals, Generals, Vice Presidents, Presidents, Ambassadors, wounded warriors, SECDEF, SECNAV, professional coaches, and many other famous speakers. Went on a cruise after Plebe summer on the LPD SAN DIEGO, out of San Diego. I also was a squad leader for Summer Seminar during the same summer. The next summer I had an internship in Quantico, VA with the Marine Corps Systems Command. Same summer went on PROTRAMID (one week of each service) in San Diego. Next summer I went through Leatherneck where I was rated as "Highly Qualified" and was a squad leader for NAPS Detail at Newport RI. I was battalion Drill Sergeant both semesters in 2015 and Battalion Drill Officer first Semester of 2016 and currently I'm Company 1st Lieutenant. I am the Imperial Wicket (Team captain) of the Academy Croquet Team (28th company) and we are playing in the National Championship (which we won in 2014) at Villanova University next week. I was selected for the Marine Corps with a contract to be a USMC pilot.
 Semper Fi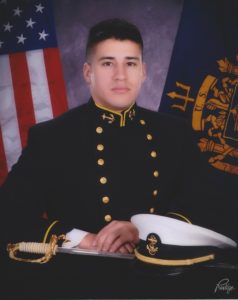 Save
Save
Save
Save
Graduate Hinton 2016
Hinton '16
Kai J. Hinton, West Sacramento, is a senior at the U.S. Naval Academy, where he majors in Aerospace Engineering and Economics. His research spans "The Phoenix Project" at the Naval Research Laboratory, the use of shape-memory alloy wire in space at the Naval Research Laboratory, failure analysis of different aluminum alloys on the wings of the F-16 at the U.S. Naval Academy, and the use of additive manufacturing (AM) for hybrid rocket injectors and fuel grains at the U.S. Naval Academy. His AM research has received an honorable mention of 2nd place by the SECNAV Innovation Awards, acceptance into multiple renowned conferences including the International Propulsion Conference in Rome, ITA, and four journal paper publications. Kai has been the Head Coordinator for the U.S. Naval Academy's midshipmen led tutoring program, MGSP, for the past two years. His involvement with the Jewish Midshipmen Club earned him the Colonel Harry Lindauer Lay Leadership Award. Kai's varsity men's cross country team has won the Division I Patriot League Championships all four years. Kai's varsity men's track and field team has won the Division I Patriot League Championships for both indoor and outdoor seasons all four years. Upon graduation he will train to become a Navy Diver in Panama City, FL and then head to Charleston, SC to attend Nuclear Power School.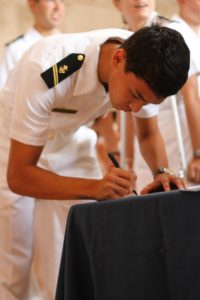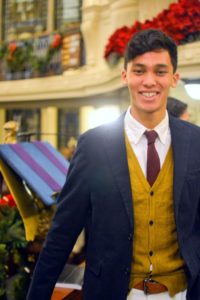 Save
Graduate Vance 2016
Posted: 5/3/2016
MIDN 1/C  Connor Vance                 Folsom CA
From the time Connor found a USNA bulletin in his school library as an 8th grader, he knew he wanted to be a Marine or Naval officer. Focusing his education and extracurricular activities towards that goal, he participated in varsity basketball, overseas mission projects, civil air patrol cadet programs and pursued many academic opportunities. His years at the academy have not dimmed his desire to serve and this winter he achieved his top military career choice of Marine Pilot.   "I want to fly but also be close to the action on the ground and interacting with the men who carry the fight."   To this end he hopes to fly the Heuy/Venoms after finishing TBS and primary flight school.
Connor is graduating with a major in Ocean Engineering and a minor in Arabic.  During Plebe summer this last year, he was Lima company platoon commander. When not studying, he has enjoyed slalom and giant slalom ski racing and served as president of the USNA Alpine Ski Team, as well as playing intramural basketball and rock climbing.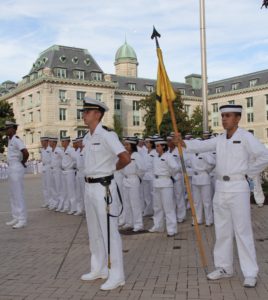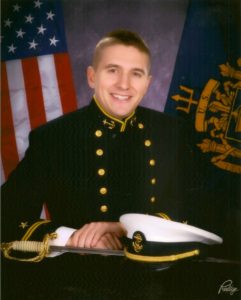 Save